iSEECard Pocket Cellulose Tablet
Product Review
The iSEECard Pocket Cellulose Tablet:
Evolution Not Revolution In Financial Services Information Technology
Dan Hooper, Director, Piccadilly Group
Professor Michael Mainelli, Director, Z/Yen Group Limited*
31 March 2011
Obviously the next next big thing is the 'must have' cellulose tablet. Piccadilly Group's technology reviewer, Dan Hooper, writing the report Gartner wouldn't, explores the latest in the BX line of slim, bleach white, wafer-thin tablets - iSEECard – with Z/Yen's head of research, Professor Michael Mainelli FBCS.
Has the future arrived with the iSEECard Pocket Cellulose Tablet – a sustainable, autonomous, 100% reliable, computing platform from an organic base? Smaller, cheaper and faster than silicon, cellulose machines consistently outperform conventional computers on just about every performance characteristic.
Via acquisition, Z/Yen released the AX series after obtaining rights to p-Papyri and DED c-SCROLL systems. Now, Z/Yen's iSEECard breaks new ground as the first pocket cellulose tablet of the BX series. Ultra-slim, potentially paper-thin, at an astonishing 0.38mm thickness, but also highly portable at just 76.2 mm high and 127.0 mm wide, the flexible, B7-sized iSEECard has Italian fashion-house design with inviting clean blue lines.
As you'd expect, iSEECard is fully compatible with the original AX and Hipster PDA suite of plug-n-play organisers, and includes many Hipster features such as unlimited fonts and colours, flexible cut-and-paste, infinite memory based on IndexMe technology, distributed storage, stackability and self-configuring intelligent interfaces. iSEECard is also backwards compatible with pencil 1.0, fountain 2.0 as well as ball.pen. The tablet eliminates power as a problem, given universal compatibility with all adaptors and use of the time-proven, evolutionary, photosynthetic energy storage.
iSEECard has an array of additional benefits, including integration with the largest social network technology on the planet, BusinessCard. For mundane security issues, such as doctors with sensitive patient data, iSEECard supports the Hipster's automatic encryption. For very sensitive users, the device is edible in extreme circumstances. For travellers, iSEECard has a hyper-stealth airplane mode for airport scanners.
iSEECard goes further than AX with a suite of background applications far more sophisticated than typically found in any conventional tablet. Cellulose is known for its self-referential calculating powers, so while it looks as if it's just sitting there, the iSEECard simultaneously runs a full suite of distributed computing applications, including the ever popular Think@Home, Think@Office and Sing(in)Bath. Futurists reckon that the next next next big thing will make its first appearance on an iSEECard.
The Piccadilly Group are particularly interested in demanding financial applications for iSEECard, such as high-frequency trading. Recent high profile market system failures at London Stock Exchange and Australian Stock Exchange highlighted the vulnerabilities of traditional computing technologies. iSEECard would appear to eliminate the potential for such failures by handling with ease fluctuations in energy prices and rare materials. Cellulose technology has proven invulnerable to cyber-terrorist attacks and network failures with its Flutter™ airborne delivery and Post™ mail networks (patents pending), and the technology is not susceptible to solar flares or electromagnetic pulse weapons.
The iSEECard also caters for the environmentally concerned – it can be erased, safely incinerated, recycled, or simply left on its own in the attic or cellar as it forms a natural carbon sink.
On the downside, while the iSEECard has the world's most stable operating system, HOLD™, and the most resilient browser, LOOK™, users are still wary of a system that, while it never crashes, does sometimes burn as the underlying substrate is WOOD™. Z/Yen is still researching flame-retardant technology that doesn't interfere with the application interface, INK™.
Most research houses refuse to deny their top-secret research projects, and Z/Yen is no exception. However, under intense Piccadilly interrogation** Z/Yen research turns out to be, like a paper cut, well beyond the bleeding edge of technology. Competitors have tried to get behind the WOOD™ chip, for example slicing the iSEECard in half to see chip-wood processing at work, all to no avail. Future nano developments seem to be already incorporated into the basic fibres of the processor.
Asked about future developments, Professor Mainelli elaborates, "on the cards is a Z/Yen research project into a multi-processor game version, PLA-ING-CARD; followed by research into cellulose digital money, CACHE 2.0; let alone our plans to create Borges' infinite Library of Babel using a quantum iSEECard with a dot on one side and dash on another – inspired by Harvard philosopher W V Quine – flip-flopping till the end of time."
So, the Hooper rating? ☻☻☻☻☻
☻flat as a piece of paper
☻☻ viral, like a disease
☻☻☻ back to the future
☻☻☻☻ woven into the fibre
☻☻☻☻☻stuff this good doesn't grow in trees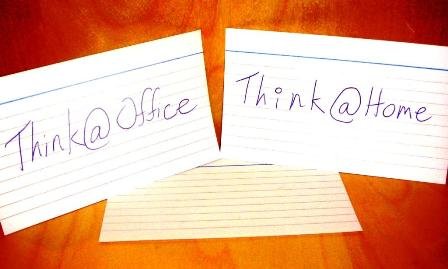 A 3X5 aspect ratio shot of a trio of B7 iSEECard co-processors handling (from left to right) Think@Office, Think@Home and (in the foreground) the Unknown Quantum Application
Final Word?
We've picked a dilly here. iSEECard is a new computing platform taking root. With such green credentials, flexibility and processing power, the future of cellulose computing is assured.
* Potential conflicts of interest debunked: Neither Dan nor Michael have a conflict of interest – they get along well and both like the idea of making oodles of money flogging iSEECards.

** Dan bought Michael a few drinks.
---
About Z/Yen Group Limited – www.zyen.com
Z/Yen is the City of London's leading commercial think-tank, founded in 1994 to promote societal advance through better finance and technology. Z/Yen "asks, solves and acts" on strategy, finance, systems, marketing and intelligence projects in a wide variety of fields. Z/Yen activities include the development of an award-winning risk/reward prediction engine, which helped a global charity win a good governance award; benchmarking transaction costs across global investment banks; and leading the Long Finance initiative asking "when would we know our financial system is working?". Z/Yen produces a wide variety of research, including the Global Financial Centres Index.
About The Piccadilly Group – www.thepiccadillygroup.com
The Piccadilly Group, founded in 2010 by a group of leading advisors and industry professionals, offers IT advisory and delivery services focusing solely on the banking and financial markets. The Piccadilly Group have an impeccable delivery track record on large, complex and high-profile IT programmes - underpinned by strong industry relationships, research and collaboration with world-class thought leaders.
Contact: danhooper@thepiccadillygroup.com