What's The Reverse Of Obverse? Sir Thomas Gresham - Tudor, Trader, Shipper, Spy ... & His Commemorative Coin
Monday, 03 June 2019
By Michael Mainelli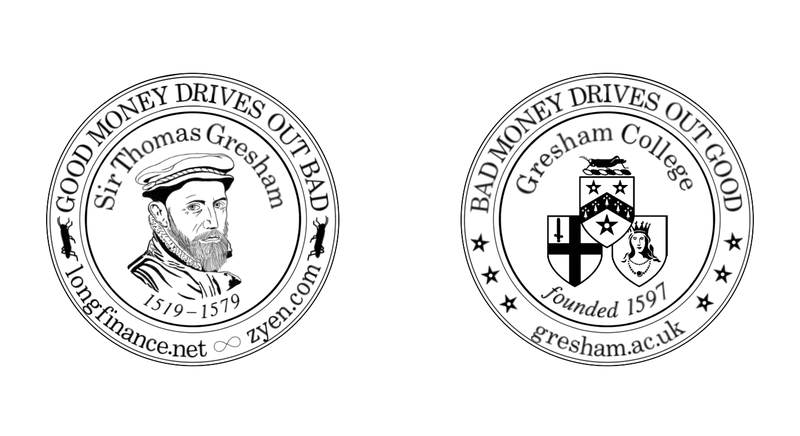 Z/Yen is delighted to be a sponsor of a fascinating exhibition at the Guildhall Library, "Sir Thomas Gresham (1519-1579): Tudor, Trader, Shipper, Spy. The exhibition runs from 3 June until mid-September 2019 and is free and open to the public - Mon-Sat 09:30 to 17:00, and till 19:30 on Wednesdays - Guildhall Library, Guildhall, Aldermanbury, London EC2V 7HH - and you can download the brochure.
Sir Thomas Gresham is one of the most over-looked sixteenth-century merchants and financiers. Gresham served four Tudor monarchs, managed to keep his head, and all the while made money. When he died he was widely reputed to be the wealthiest man in Europe. He brought the idea of a 'bourse' to England from Antwerp, the Royal Exchange, as well as the 'shopping mall'. His understanding of money is encapsulated in Gresham's Law, "Good money drives out bad", though the concept dates back to at least Aristophanes. His Will of 1575 established his most enduring legacy, Gresham College.
Z/Yen and the FS Club are hosting a special evening on 17 June - "Gresham's Law – An Evening With Presentations, An Exhibition & Book Signing At Guildhall Library – Oh, And Drinks & Canapés" - where you can come and see the exhibition with friends.
Dr John Guy is a fellow of Clare College, Cambridge and specialises in Tudor history and has written extensively on the period. His book "Queen of Scots: The True Life of Mary Stuart" formed the basis of the 2018 film "Mary Queen of Scots" starring Saoirse Ronan and Margot Robbie. John's new book is "Gresham's Law: The Life and World of Queen Elizabeth I's Banker", just released, and will be available for purchase and signing at £20 for one or £30 for two. If you would like to order a significant number please contact us at Z/Yen. Drawing on vast new research and several startling discoveries, John recreates Gresham's life and singular personality with astonishing intimacy. He reveals a survivor, flexible enough to do business with merchants and potentates no matter their religious or ideological convictions. His mind was a calculating engine. Yet his personal relationships were disturbingly transactional. Smuggler and arms dealer, extortioner backed by royal authority, he was a figure of cold unsentimentality even to members of his own family.
The exhibition contains a number of priceless displays related to Sir Thomas and his legacy, for example a copy of Robert Hooke's Micrographia (Hooke was a Gresham College professor), a Shakespeare folio, and a manuscript from Henry Purcell (go see to understand). All attendees will receive a complimentary commemorative coin with both versions of Gresham's Law on it, designed by Xenia Mainelli, which Professor Michael Mainelli will explain on the night.
And 'obverse', 'reverse', who knows? We would like to thank the following for making this exhibition possible:
The Gresham Society
The City of London Corporation
The Worshipful Company of Mercers
The Guildhall Library
Gresham College
The National Archives
The College of Arms
Z/Yen Group
Fortnum & Mason
Contributors: Professor Will Ayliffe, Dr Geoff Browell, Isabelle Chevallot, Professor Tim Connell, Dr Lynsey Darby, Dr Irene Gilchrist, Dr John Guy, Patricia Humphries, Lindsey Keeling, Professor Michael Mainelli, Xenia Mainelli, Dr Peter Ross, Dr Jane Ruddell, Dr Andrea Tanner. Design by Chi-Yien Snow.