City Giving Day Quiz 2021
Tuesday, 21 September 2021
By Now&ZYen
FS Club 7—A Musical Ten Out Of Ten
September 21 saw the City of London (and many Zoom backgrounds) painted red for the City Giving Day Quiz.
The Z/Yen team, with a tasteful nod to the erstwhile pop band S Club 7, was captained by Charlotte Dawber-Ashley, who is the Manger of Z/Yen's FS Club. The FS Club 7 naturally comprised the maximum allowed six people: Charlotte, Ian Harris, Mike Wardle, Juliet Wigzell, James Pitcher, and Libby Johns.
With a nod to our name, we performed best in the music round, scoring a perfect 10 out of 10 with our knowledge of musicals, as evidenced below.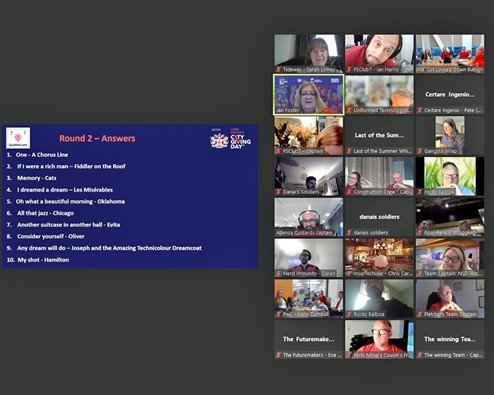 Unfortunately, Z/Yen did not Reach the stars or Number One, but a great time was had by all, and there surely Ain't No Party like an FS Club Party!
Like much Z/Yen activity, in the end it was all down to the numbers. FS Club 7 was just three points shy of a tie-break place. Still, the Z/Yen team gave it 117% and left 93% of it on the virtual field of play. The team hopes to participate and take the crown in 2022, which would be a Dream Come True for Z/Yen.
City Giving Day celebrates volunteering and philanthropic efforts by business and individuals in the City of London and is linked to The Lord Mayor's Appeal. If you would like to donate to the Lord Mayor's Appeal or find out more about it, please click here.