Enjoying A Green (Very Hot) Summer Evening At The Bank of China - Wednesday, 13 July 2022
Friday, 15 July 2022
By Charlotte Dawber-Ashley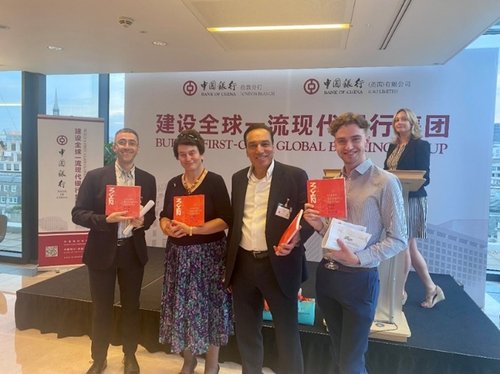 On Wednesday, 13 July, London reached scorching temperatures, so FS Club members, friends, and associates were pleased to cool down with a cold drink at the Bank of China in Lothbury. The ninth floor provided a modern, bright space with spectacular views of the City, which was ideal for connecting with new friends, catching-up with old, and meeting some of our fascinating webinar presenters in person.
A well as cold drinks and witty conversations, the evening lived up to the values of the FS Club with some knowledge thrown in, thanks to Professor Michael Mainelli's speech on Policy Performance Bonds (aka Sovereign Sustainability-Linked Bonds) and their importance in helping countries achieve net-zero carbon emissions. Michael spent a bit of time explaining the importance of Chile's recent March 2022 issuance.
Of course, it wouldn't have been an FS Club Event without a game thrown in and to suit the Green theme of the evening, guests got into their competitive stride and played a Green Bourse Trading Game. The Game featured fictional green tech stocks, with innovative products designed to reduce the effects of climate change and we will admit there was some insider-trading, cheating, and cunning, as guests competed to make the most money. The Blue Polar Bears, featuring Harpal Gill from Peernova, Jamie Gordon from Datatics, Simon Hessami from SIA Partners, and Gillian Kaile from M@C, walked away with the crown and glory deserving of the winning team.
We are immensely grateful to our hosts, the Bank of China, led by CEO Mr Wenjian Fang and his hard-working team, including Mr Tim Skeet, Chief Institutional Relationship Office, and Ms Ling Chen, Vice-President, Executive Office. Their support and generosity were essential to the success of the event, and it was a pleasure to work with them. Thanks also to our enthusiastic guests for spending their evening with us. We look forward to socialising with you again soon!