We (Don't) Like To Move It
Monday, 24 January 2022
By Now&ZYen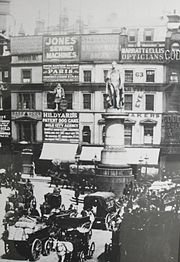 We hadn't planned to move at the start of 2022, but stuff happens - ask our hosts Argyll.
Anyway, the move was made relatively painless for us and we find ourselves in yet another building with a Thomas Gresham connection.
The current building 1 King William Street, where Z/Yen now resides, was built on the original site of the Gresham Club, when the club was founded in 1843.
Our new street was even mentioned in The Wasteland by TS Elliot:
And each man fixed his eyes before his feet.
Flowed up the hill and down King William Street,
While our former street, Lothbury, was mentioned in The Reverie of Poor Susan by William Wordsworth:
Bright volumes of vapour through Lothbury glide,
And a river flows on through the vale of Cheapside.
King William Street used to look as depicted in the vintage photograph shown here. Now that Z/Yen has moved in, it looks a little more modern. Just a little more.
1 King William Street, London EC4N 7AF, United Kingdom
GeoGnomo Code: QTS:F49PUEXGA-18 - https://www.geognomo.com/QTS/