Security Forward Workshop & Virtual Cocktails - 21 January 2021 - Virtual Meeting
Thursday, 21 January 2021
By Peter Fraser-Hopewell CMG MBE
Thursday, 21 January 2021, saw Security Risk and Intelligence Forum host its 5th virtual meeting chaired by co-programme chairman Peter Fraser-Hopewell CMG MBE.
Our guest speaker was Tarquin Follis OBE. Tarquin is Vice Chairman of Reliance acsn, a specialist cyber security company offering managed security services to public and private sector clients. Prior to joining reliance Tarquin had over 30 years of service in government, specialising in national security policy. He finished his career as a senior diplomat, having served overseas in Asia, the Middle East, and Europe. In his last posting, Canberra, he took responsibility for HMGs cyber engagement with regional governments in the Asia Pacific Region. Since retiring from government service in 2013 he has worked in the UK's tech sector primarily on digital resilience and integrity. A student of human behaviour, he has a particular interest in the interface between people and technology, and the vulnerabilities that has exposed.
Tarquin's presentation, Cyber Security and its growing importance at Board level, was incisive, informed and eloquently given. Drawing on his experience within government and business, Tarquin's talk certainly was well-received, clearly demonstrated by the number of questions from members eager to draw on his experience and opinions. The number of questions from members meant that the usual 'sharing your in tray' session did not take place as it was decided to allocate more time to the fascinating Q&A session.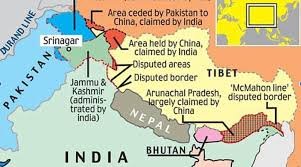 Tarquin was followed by the traditional quarterly presentation by Lt Col Crispin Black MBE, "Tensions Above 10,000 feet: The Himalayas - Cockpit For Conflict Between India and China". Crispin provided a timely reminder of the potential for armed clashes in a region about which many of us, if not most, know little.
Despite Lockdown, we shared virtual cocktails, a hardy perennial for Security Forward, the Gin & Tonic - tempting to some who were on a dry January.
We remain in Lockdown 3 which continues to impact on the ability to meet face to face. It was proposed that we move onto a three-monthly cycle. Within that there would, when covid-19 regulations allow, be two virtual meetings and one face to face as part of our aim to deliver more for members, i.e. 12 meetings a year versus four. Based on this concept the planned meetings are:
18 February 2021 - virtual sharing your in tray - perhaps with a suggested discussion topic.
25 March 2021 - virtual guest speaker.
29 April 2021 - face to face meeting (this would be virtual if restrictions still apply) with a guest speaker and our quarterly presentation from Crispin.
We will keep this under review and welcome comments for members but some future dates for diaries are:
26 May 2021 - virtual sharing your in tray.
24 June 2021 - virtual guest speaker
22 July 2021 - face to face meeting - we would hope this will be physical, and subject to confirmation this may be at the Old Bailey.