Continuing Our Travels
Monday, 12 December 2022
By Mike Wardle
We are sometimes fortunate enough to be invited to exciting events across the world. In November, Mike Wardle travelled to the Abu Dhabi Finance Week organised by Abu Dhabi Global Market (ADGM).
Following a spectacular opening event, the conference sessions focused on FinTech, Crypto technology and on sustainable finance – fitting as ADGM has recently become the sponsor of Z/Yen's Global Green Finance Index. The first R.A.C.E. (Regulation, Awareness, Collaboration, Ecosystem) sustainable finance summit focussed on addressing a wide range of topics including:
financing the net zero transition and
climate regulation/frameworks and sustainable capital markets.
The event also examined some of the key outcomes from COP27 that took place in Egypt earlier in November and outlined expectations for COP28 which is due to be hosted in the United Arab Emirates in 2023. Abu Dhabi Finance Week was a carbon-neutral event, delivered through offsetting through a collaboration with AirCarbon exchange (ACX).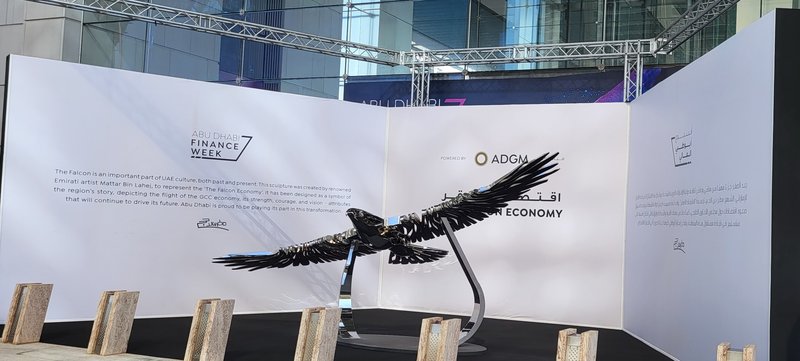 During the Finance Week, a new sculpture was unveiled by His Highness Sheikh Khaled bin Mohamed bin Zayed , representing the Abu Dhabi Falcon Economy. The sculpture, designed by Emirati artist Mattar bin Lahej, symbolises the UAE's growth as a leading global economy and Abu Dhabi's rise as an international centre of finance.
Abu Dhabi Global Market Building