City Streets Are Made For Walking - The Walk Of Commerce & Finance
Tuesday, 18 February 2014
By Now&ZYen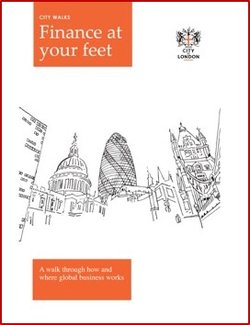 Z/Yen tries to help people understand commerce and finance, arranging open days and walking tours for students of all ages. In 1997 we first led some overseas visitors on an extended tour of work in the City of London. We were surprised at the paucity of sites for visitors who wanted to understand the contemporary business of the City. It was easy to find out about the Romans, Christopher Wren, or Charles Dickens, but not what the 500,000 people in the Square Mile worked at each day. We were also surprised at the number of corporate visitor centres that had quietly stolen away, Lloyd's, London Stock Exchange, or LIFFE for example. Yet City businesses complain that today's children don't understand what they do, or that adults outside the central business district feel excluded.
Z/Yen began a quest to produce some walking material on what people do now in the City and get it published. The working title was the "Walk of Commerce & Finance". Along our 17 year path we met numerous fellow travellers and friends, banks, insurers, shippers, official guides, and the City of London Corporation. In 2013, the City of London Corporation published a pdf book as "The City of London – A Walk Through This Hub Of Global Business" and "City Walks – Finance At Your Feet" - and highlighted it among its other walks.
In February 2014, "City Walks: Finance At Your Feet" was published on iBooks (free). To enjoy, take your browser here to download the pdf or your iPad iBook directly from iTunes (free). You can also download via iBooks or iTunes by searching for "City Walks City of london". If anything, Z/Yen is now energised to do more software development in this space and have been conducting some 'Wikiwander' research on a new flexible, playlist approach to walks and tours for cities and regions – get in touch if it interests.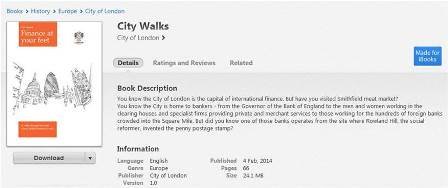 Contents
Insurance
Lloyd's of London
Great Tower Street
30 St Mary Axe
Marsh Tower
Banking
Fleet Street
2 King Edward Street
The Bank of England
Lombard Street
Markets
Gresham College and Hatton Garden
Smithfield Market
London Stock Exchange
The Royal Exchange
Shipping
Queenhithe to Billingsgate
The Baltic Exchange
Trinity House
Tower Bridge and the Port of London
Our Z/Yen team on this was led by Xueyi Jiang and Stephanie Rochford, but it was a much wider team effort than that and we would like to thank the numerous people who helped us, including The City of London Corporation Barbara Anderson, Gail Armstrong, William Ayliffe, Liz Bailey, Doug Barrow, John Bennett, Adrian Berendt, Jim Buckley, Linda Cook, Malcolm Cooper, Peter Davies, Mike Dudgeon, Mark Duff, Stephen Fay, Archie Galloway, Ian Harris, Neil Infield, William Joseph, Tim Kidd, Richard Leeds, Sarah Leigh, David Lewis, George Littlejohn, Michael Mainelli, Elizabeth McMahon, Andrew McMillan, Robin Michaelson, Simon Mills, Mike Prymaka, Nick Robins, Marie-Louise Rossi, John Scott, Stewart Sutherland, Jim Walker, Spencer Williams, Robert Woodthorpe-Browne, Nigel Woodward, Mark Yeandle, Gresham College, Worshipful Company of World Traders and Z/Yen Group Limited for all of their support.