An Evening To Remember: The FS Club Spring Garden Party 2022
Friday, 13 May 2022
By Mike Wardle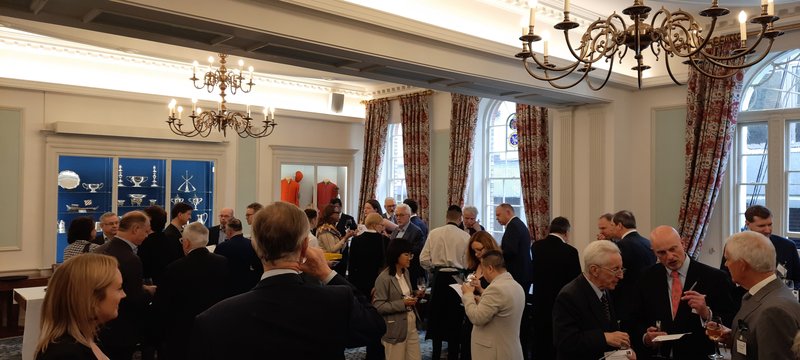 On Wednesday, 11 May 2022, Z/Yen hosted the FS Club Spring Garden Party right in the heart of the City of London. As is customary with outdoor events in Britain, the weather turned and proceedings were moved from St Dunstan East Church Gardens to nearby Watermen's Hall. Undeterred, the venue was quickly filled and an evening of impassioned discussion was had by all.
Welcoming FS Club members to the event, Mike Wardle, Director at Z/Yen, noted that
"This evening is a chance to meet other members of the FS Club, so socialise, make connections, find others who share your interests. You may find someone who can teach you something or who can learn from you. We hope you enjoy yourselves, make connections, strengthen your friendships with those you already know and make new friends and contacts to take forward."
Charlotte Dawber-Ashley, FS Club Manager, said of the event:
"Typical UK Spring weather hampered plans for the FS Club Spring Garden Party. However, fortunately spirits were not dampened unlike our coats, as we enjoyed an evening buzzing with stimulating conversation and new connections at the appropriately named Watermen's Hall. The Hall is home to the Company of Watermen and Lightermen and has a deep and prestigious history with all things related to the River Thames; providing a majestic setting to meet new members of our community and reconnect with longtime friends."