Voluntary Standards Markets
ISO defines a standard as "a document that provides requirements, specifications, guidelines or characteristics that can be used consistently to ensure that materials, products, processes and services are fit for their purpose". Standards are a voluntary, typically industry-driven, alternative to regulation through legislation or to the free market approach aiming to address perceived risks. While regulation is imposed and typically controlled by a quota of time or resource, a standard may emerge from market choice. Standards are part of market and can improve transparency as well as encourage better practice in a way that complements regulation while still supporting competition.
Voluntary Standards Markets in Finance
A joint BSI, CISI and Long Finance research project conducted between June and November 2013 explored how voluntary standards markets might be applied to financial services regulation and sought to provide independent verification of their potential in the financial services sector through events, interviews and an online awareness questionnaire. The resulting publication "Backing Market Forces: How to make Voluntary Standards Markets Work For Financial Services Regulation" was released in November 2013.
---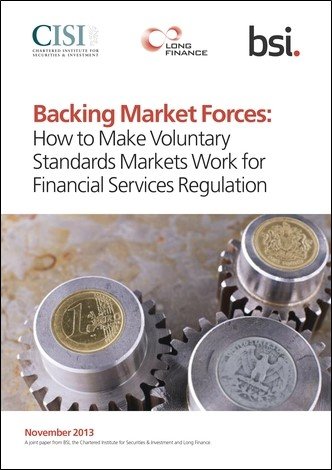 Backing Market Forces: How To Make Voluntary Standards Markets Work For Financial Services Regulation
by Michael Mainelli and Chiara von Gunten, Z/Yen Group,
BSI, Chartered Institute for Securities & Investment and Long Finance
November 2013, 72 pages
Related Project
Related Publications
Related Articles
Related Events
In the Media
Further Reading