IT For The Not‑For‑Profit Sector
A Practical Guide to IT Strategies For The Not‑For‑Profit Sector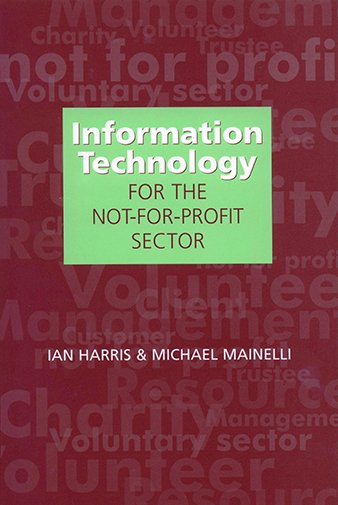 Most not-for-profit organisations could substantially improve the effectiveness of their services by applying information technology (IT) better. But where do you start? How do you minimise the risks and maximise the rewards from using IT? If only there was a book to provide a practical, hands on guide to developing and implementing an IT strategy. Well there wasn't such a book, but now there is Information Technology for the Not-for-Profit sector. Co-Authors Ian Harris and Michael Mainelli (whose previous works include the seminal management novel Clean Business Cuisine) have written a practical, hands-on guide to developing and implementing an information technology strategy.
The book covers core topics such as selecting the appropriate hardware and software, accompanied by coverage of issues such as training, health and safety and data protection. The use of the internet and e-mail are also given the prominence they deserve. Full attention is given to topics of particular relevance to the sector, such as finding sector-friendly suppliers and consultants and identifying software for fundraising management and service provisions. The book is presented in a non-technical, business-orientated style and assumes minimal IT knowledge. It is also illustrated with checklists, templates and case studies and includes a Directory of further information and other resources.
Paperback • ISBN: 1860721303 • 224 pages • Published 2001 • £14.95
---
Information Technology for the Not-For-Profit Sector is available on Amazon.
Click here to read a selection of reviews.
Online version
Contents
Part 1 - IT Strategy
Part 2 - IT Structure
Part 3 - IT Systems
Part 4 - IT Staff, Skills and Style
Part 5 - Shared Values: The Internet and Related Technologies
Part 6 - Detailed Case Studies