Ultrahedge Film Premiere Premiere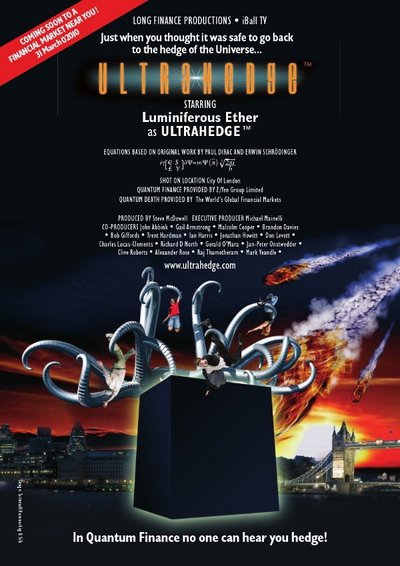 Ultrahedge™ is a Long Finance Production of a McDowell/Mainelli Film in association with Interactive Investor & Z/Yen Group Limited. Starring Luminiferous Ether as Ultrahedge™, the film is based on the bestselling novel "The Road To Long Finance: A Systems View Of The Credit Scrunch" by Michael Mainelli and Bob Giffords, with a screenplay by Steve McDowell and Michael Mainelli. It has been produced by iBall TV and Steve McDowell, directed by Steve McDowell and edited by Richard Noble, as part of the Long Finance movement.
On 31 March 2010 Ultrahedge™ premiered at 8 Members Club courtesy of iBall TV.
The film is an intense three minutes long and is now on global release. Plot synopsis: "Imagine a world devastated by financial crisis, one in which liquidity and debt are impossible to come by. It is a world created by greed, fear, finance, erratic mathematics, unpredictable weather and human existence. There is a way to fix it all, and it has been discovered and developed by large brains in white coats - Ultrahedge™."
Watch the trailer Warning: longer than film
Read the screenplay.