Long Finance Autumn Conference 2018: Smart Ledgers (MDLs, aka Blockchains) & Risk Conference
The Long Finance Autumn Conference 2018 took place in the impressive auditorium of Willis Building. Delegates from across the industry joined us for a glimpse of what the future looks like and guidance on how to get ready for it.
Smart Ledgers are mutual distributed ledgers (MDLs, aka blockchains: multi-organisational databases with a super audit trail, used in cryptocurrencies) combined with embedded programming and sensing. But how do they work and what are the risks?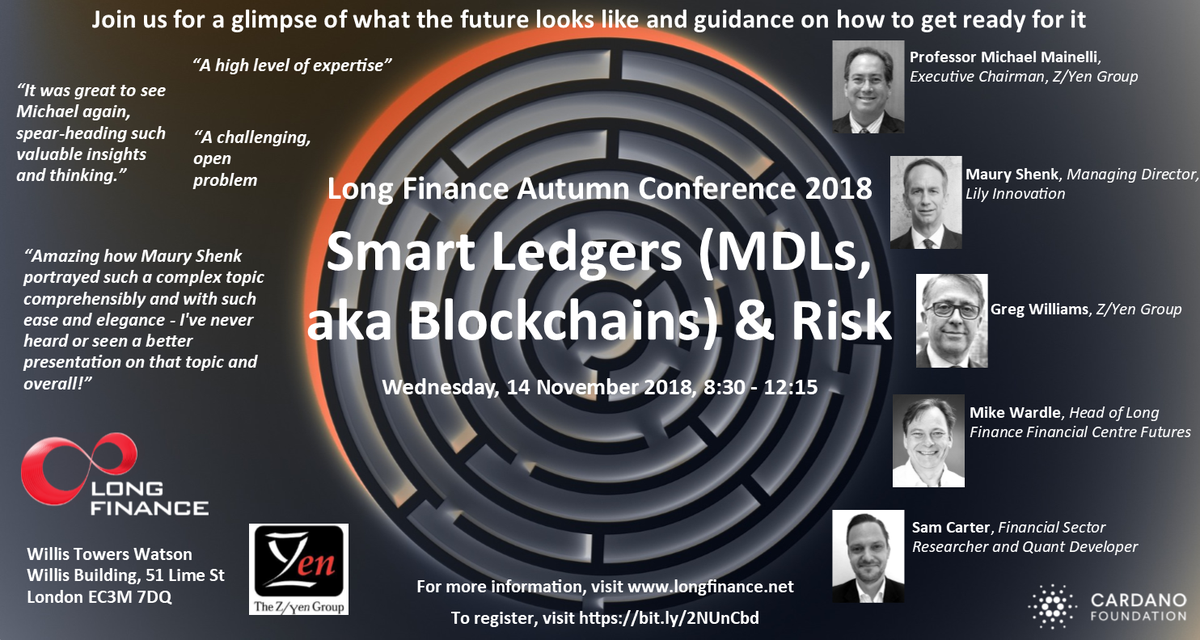 Cyber-Catastrophe Insurance-Linked Securities On Smart Ledgers
Hurricane season is now well under way in the Atlantic. Florida, the Carolinas, and the Caribbean have been mercilessly battered. Over the last 30 years, the insurance industry has evolved a sophisticated set of strategies to deal with the cost of rebuilding after natural catastrophes, by offloading some of their catastrophe risk on to the financial markets.
Today, computer systems are as integral to our lives as the buildings we live and work in. We depend on them as never before, for both our health and wealth. And these vital systems are at risk. As networked systems get bigger, they become more susceptible to cyber-catastrophe. It is only a matter of time before a massive failure strikes. And the insurance industry is not ready. No war chest of cash exists.
This talk will explore how Cyber risk can be pooled with the capital markets in similar ways to other catastrophe insurance, such as wind and earthquakes.
---
Smart Jurisdictions Index
How have different parts of the world been responding to the growth of distributed ledgers and smart technology? Is this reflected in their regulatory and legal systems? What are the implications for investors?
The Smart Jurisdictions Index (SJI) looks to score differing jurisdictions in terms of their readiness to engage with distributed ledger technology and applications, alongside their general competitiveness. It will be looking at identity, documentation and agreements, regulation, payments and currencies. A guide for both investment and regulatory decisions, the Index will provide a snapshot of developing trends in a space that affects everyone.
---
Information Rules: Smart Ledger Architectures & Distributed Permissions (Or How Not To Give Keys To Strangers)
One of the big challenges of modern markets is permission. For example, permission to access a computer system, whilst ensuring hackers don't, or use an asset, whilst preventing thieves from doing so. Permission rules that involve concepts of "may" and "should" are hard to apply to computer systems, as they use 'bits' that are either true (1) or false (0). This creates a dangerous minefield for the future Internet and global economy. But Smart Ledgers could provide at least part of the solution. This report explores the interactions among markets, permissions, and computation to light a path towards solving this problem.
---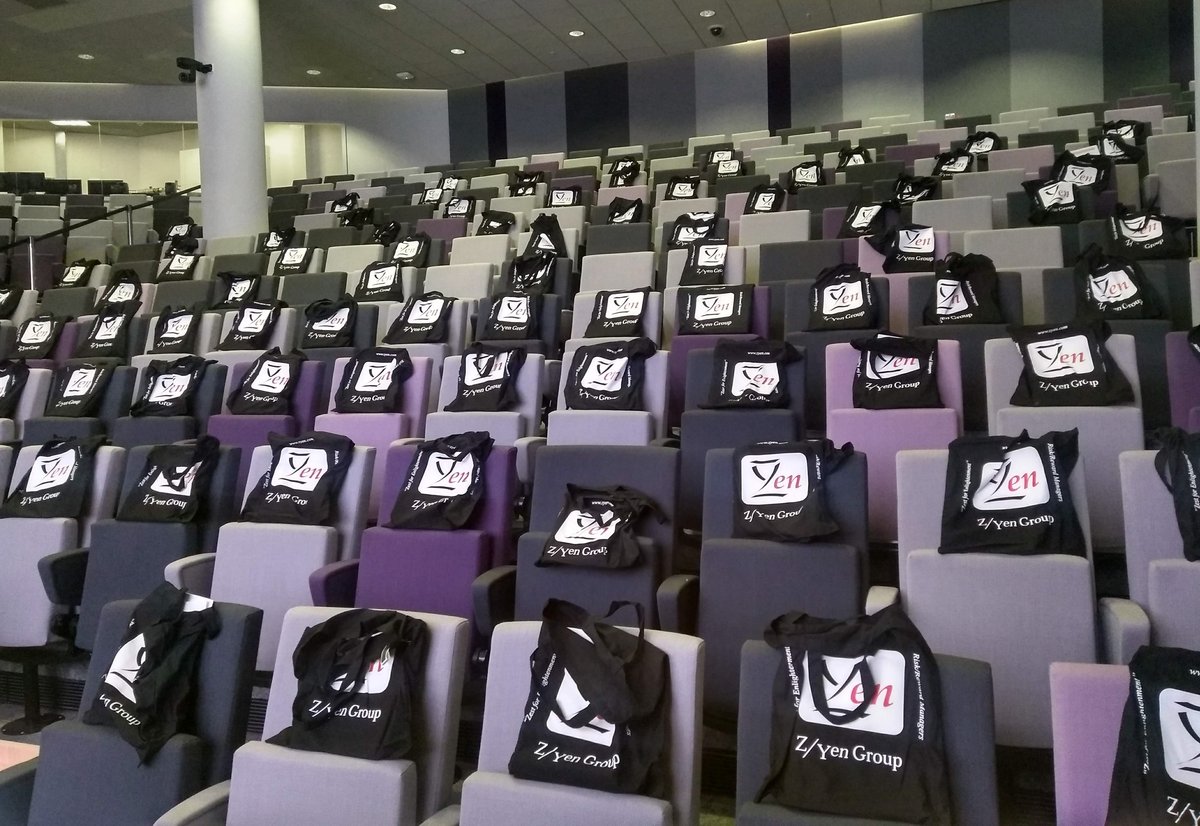 AGENDA

8:30 - 9:00

Registration & Continental Breakfast

9:00 - 9:15

Welcome, Introduction, & Background

Professor Michael Mainelli, Executive Chairman, Z/Yen Group

9:15 - 9:30

Initial Coin Offerings - The Search For The Final Function

Ian Dowson, Principal, William Garrity Associates

9:30 - 10:00

Cyber-Catastrophe Insurance Linked Securities – Pilot

Sam Carter, Financial Sector Researcher and Quant Developer

How did we get here? A history of insurance and catastrophe
What are Insurance-linked Securities and how are they applied?
Can we define Cyber Risk? How well does the current insurance market cater for it?
Cyber Catastrophe. This is a looming problem. Insurance-Linked Securities are the solution
A suggested architecture; polling, bespoke indices, and Smart Ledgers
Further applications: reporting, regulation, data anonymisation, advertising

10:00 - 10:30

Coffee Break & Networking

10:30 - 11:00

Smart Jurisdictions Index

Mike Wardle, Head of Long Finance Financial Centre Futures; Greg Williams, Z/Yen Group

Areas of development in smart ledgers: Identity, Documentation, Legal, Payments
Key factors distinguishing jurisdictions and their approaches
Measuring readiness to engage with smart ledgers
Measuring general competitiveness
Developing the methodology

11:00 - 11:30

Information Rules: Smart Ledger Architectures & Distributed Permissions

Maury Shenk, Managing Director, Lily Innovation; Professor Michael Mainelli, Z/Yen Group

Permissions in physical, virtual, and information markets
Examples in classical and modern markets - Rothschilds, algorithmic trading, Uber
Role of Smart Ledgers in a future permissions framework
Technical challenges - APIs, handling permissions logic on computers
Legal challenges - GDPR, and related issues in US, China, and India

11:30 - 12:00

Panel Discussion & Questions

12:00 - 12:15

Summing Up & Next Steps
Resources:
Speaker(s):
Sam Carter
Financial Sector Researcher and Quant Developer

Michael Mainelli
Executive Chairman
Z/Yen Group
Maury Shenk
Managing Director
Lily Innovation
Mike Wardle
Head of Long Finance Financial Centre Futures

Greg Williams
Z/Yen Group
Location
Willis Building
51 Lime St
London EC3M 7DQ