Chile Issues World's First Sovereign Sustainability-Linked Policy Performance Bond Webinar - Chile
Never miss a recording again; click here subscribe to Z/Yen's YouTube account .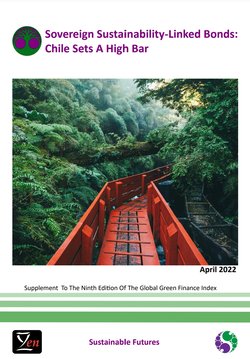 In March 2022, the Republic of Chile placed the first-ever Sovereign Sustainability-Linked Bond (SSLB). This $2 billion 20 year SSLB was more than 4 times oversubscribed - a remarkable achievement given the sovereign bond market's volatility and uncertainty. Green Policy Performance Bonds, Sustainability-Linked bonds (SLBs), and, most noteworthy, Sovereign Sustainability-Linked Bonds (SSLBs) form a subset of green bonds however, they differ from green bonds, social bonds, or sustainability bonds in several crucial ways:
First, the funds raised are not tied to a specific project, but a corporate or national objective. Liberating the proceeds from a specific project frees the issuer to deliver sustainability improvements using a wide range of means.
Second, SSLBs and SLBs are issued with specific sustainability performance targets (SPTs), which contain key performance indicators (KPIs), for example: "A 20% reduction in scope 1 & 2 emissions by 2030".
Third, if the SPT is missed the bond is subject to a 'step-up' clause, meaning the bond interest increases.
Speaker:
Patricio Sepúlveda Carmona is currently the Head of Public Debt Office for the Ministry of Finance, where he has also acted as Senior Advisor since 2002. Mr. Sepúlveda obtained his BA in Commercial Engineering, concentrating in Economics, from the Universidad de Talca (Chile) and has a postgraduate degree in Business Administration and a Master of Science in Financial Economics from the Catholic University of Leuven (Belgium).
As Head of the Public Debt Office, Mr. Sepúlveda has placed bonds for over US$150 billion in the local and international markets. Under his management, the curves have been extended since 2003, issuing longer bonds. For instance, in 2012, he performed the first external issuance of 30-years and 20-years bonds locally. In 2013, he executed the first issuance of 30-years nominal bonds locally.
In 2016, he performed one of the most important LM operation in the local market (US$14.5bn), with the aim to create strong references both in UF and nominal curve. In 2017, he issued the first domestic Euroclearable Bonds for US$1.5 billion offered simultaneously to local and international investors. Additionally, in 2017-2018, he designed the structure and hired Chile's first insurance against earthquake for US$500 million with the World Bank. In 2019, he was in charge of the first issuances of Green Bonds for the equivalent of US$2.4bn. More recently, he was in charge of the issuance of several ESG instruments, including Social and Sustainable bonds of the Republic of Chile.
GGFI 9 supplement focussing on sovereign sustainability-linked bonds, which have been pioneered by Chile.
Find out more about Z/Yen's work on policy performance bonds
Speaker(s):
Patricio Sepúlveda Carmona
Head of Public Debt Office
Ministry of Finance, Chile
Chairman:
Professor Michael Mainelli

Chairman

Z/Yen Group