Apocalypse Never: Why Environmental Alarmism Hurts Us All Webinar - USA
Webinar Recording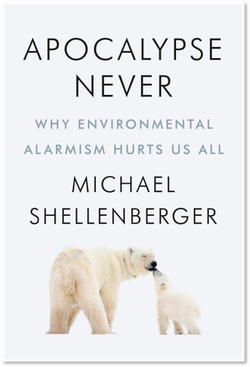 Join us for this special webinar as we invite Michael Shellenberger to share his thoughts and reflections on his best-selling new book, Apocalypse Never.
"Climate change is real but it's not the end of the world. It is not even our most serious environmental problem."
Michael asserts that despite decades of news media attention, many remain ignorant of basic facts. Carbon emissions peaked and have been declining in most developed nations for over a decade. Deaths from extreme weather, even in poor nations, declined 80 percent over the last four decades. And the risk of Earth warming to very high temperatures is increasingly unlikely thanks to slowing population growth and abundant natural gas.
Curiously, the people who are the most alarmist about the problems also tend to oppose the obvious solutions.
What's really behind the rise of apocalyptic environmentalism? There are powerful financial interests. There are desires for status and power. But most of all there is a desire among supposedly secular people for transcendence. This spiritual impulse can be natural and healthy. But in preaching fear without love, and guilt without redemption, the new religion is failing to satisfy our deepest psychological and existential needs.
Speaker:
Michael Shellenberger is a Time Magazine "Hero of the Environment," Green Book Award winner, and the founder and president of Environmental Progress.
He is author of the best-selling new book, Apocalypse Never (Harper Collins June 30, 2020), which has received strong praise from scientists and scholars including Harvard's Steven Pinker, MIT climate scientist Kerry Emanuel, and the former CEO and Chief Scientist of The Nature Conservancy. "This may be the most important book on the environment ever written," writes leading climate scientist Tom Wigley.
Michael has been called a "environmental guru," "climate guru," "North America's leading public intellectual on clean energy," and "high priest" of the environmental humanist movement for his writings and TED talks, which have been viewed over five million times.
Shellenberger advises policymakers around the world including in the U.S., Japan, Taiwan, South Korea, the Philippines, Australia, United Kingdom, the Netherlands, and Belgium. In January, 2020, Shellenberger testified before the Committee on Science, Space, and Technology of the U.S. House of Representatives. The Intergovernmental Panel on Climate Change invited Michael in 2019 to serve as an independent Expert Reviewer of its next Assessment Report.
Shellenberger has been a climate and environmental activist for over 30 years. He has helped save nuclear reactors around the world, from Illinois and New York to South Korea and Taiwan, thereby preventing an increase in air pollution equivalent to adding over 24 million cars to the road.
Michael is a leading environmental journalist who has broken major stories on Amazon deforestation; rising climate resilience; growing eco-anxiety; the U.S. government's role in the fracking revolution; and climate change and California's fires.
Date
Thursday, 10 December 2020
Time
16:00 - 16:45 GMT
Cost
N/A

Resources:
Speaker(s):
Michael Shellenberger
Founder and President
Environmental Progress
Chairman:
Professor Michael Mainelli
Executive Chairman
Z/Yen Group