Business Management System
Z/Yen is a firm believer in the importance of viable, structured systems to our organisation. Many of our people were at the forefront of the quality management movement in the 1980's. One of our directors was the first person in the City of London to have his operational unit accredited to ISO 9000. Z/Yen's business management system is compliant with ISO 9000, but also incorporates Total Quality Management principles, viable systems models and De Bono's lateral thinking techniques.

The overall system is called Z/EST. Z/EST consists of four sub-systems, reflecting the four key factors we need to get right - sales, assignments, problem-solving and our support team:
Z/ENITH: People, Processes, Results and Improvement in Assignment Management;
Z/EALOUS: Z/Yen Problem Solving: Environment, Analysis, Likelihood, Opportunity, Understanding, Summarisation;
Z/ANY: Z/Yen Operational Procedures: Enthusiastic Support Team (Environment, Support, Timeliness).
Each areas consists of processes which reflect six key stages in thinking and development, culminating in a one page checklist for each stage. An overview diagram may help: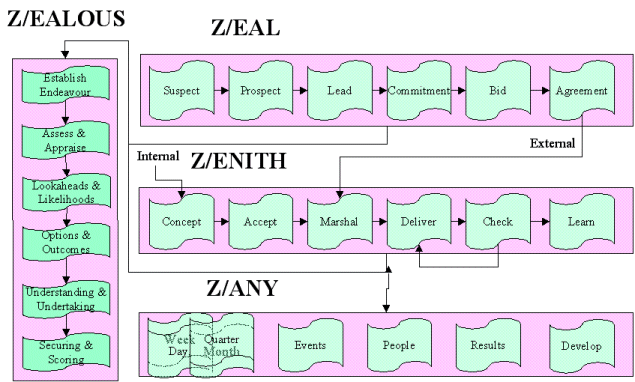 Z/Yen people have helped over 60 clients with quality certification schemes, including ISO9000, ISO14000, Investors in People and the European Foundation for Quality Management. Z/Yen has also worked on standards definition, such as working for the National Council for Voluntary Organisation in applying quality standards in the voluntary sector. Our internal procedures, as a small company, are not ISO 9000 accredited, yet. We do however, conduct frequent system audits and peer reviews.