DELOS Organisational Intelligence Systems
Our clients create "intelligence" with two tools: Z/Yen's risk/reward methodology and the DELOS Open Source Information System. Z/EST, Z/Yen's risk/reward methodology, is unusual in its ability to process hard and soft information and events, to evaluate outcomes and to decide on actions. Automated systems have a role in keeping the resulting intelligence up to date. DELOS complements Z/EST and other methodologies by providing structured information input – scanning the event horizon. For instance, as events in the Far East have shown, appraising country risk is difficult even in countries no longer regarded as 'developing'. A key difficulty is integrating the factors affecting the overall risk profile of a country or national market and identifying anomalies. DELOS helps automate integration.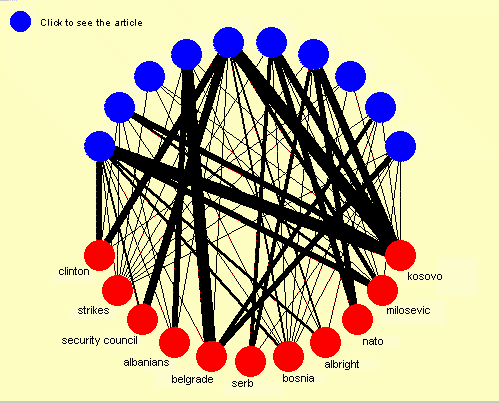 DELOS provides fast and effective access to all open source information available on electronic media. Originally designed by and for the intelligence community, DELOS acts as a single point access to on-line (including sources such as Reuters and the FT), internet and CD-ROM sources. It combines the ease of use of a standard web browser interface with the security and anonymity of a military-level system. Z/Yen staff themselves use DELOS for market research, competitor intelligence and strategic planning.
Filters are used as the basis for data mining and for presenting search information in a graphical context. For example, the number of news items featuring the words 'Indonesia' and 'bank default' can be compared with the number featuring 'Indonesia and 'New Investment'. The ratio of the two parameters can be calculated, monitored and compared over a period of time. Analysts have calculated company 'business ratios' for many years: now they have the opportunity to devise their own live intelligence ratios, e.g. "country vulnerability" or "market readiness".
At Z/Yen's recommendation, one client in a competitive business-to-business service industry has installed DELOS as a business intelligence tool, linking to their intranet, various online databases, and key industry web-sites of clients, influencers and competitors. DELOS provides a coherent picture of contracts on tender and awarded, business innovations and competitive activity. Competitor monitoring has been turned from a project-based 'snap-shot' activity to an ongoing process of information fed to decision makers' desk-tops. The sales, marketing and corporate finance areas are heavy users, constantly trying to detect changes in normal patterns of activity in their environment.
DELOS should be of particular importance in information intensive, competitive situations for roles such as risk managers, information departments and research analysts in banking, insurance, energy, pharmaceutical, professional service and politically–sensitive organisations. Z/Yen, working with the developers of DELOS, is happy to demonstrate its capabilities and begin defining how a DELOS installation can help improve any organisation's intelligence. The more you know the risks; the more risks you can control; the better your rewards.
Delos Open Source Information System
DELOS is a key tool in information integration, providing a number of services from a central server:
competitor intelligence;
market research;
press clipping services – live and static;
active channels for monitoring sectors, industries and deals;
active monitoring of internet sites and intranet sites as if they were news feeds.
Designed originally for government organisations, our DELOS system solves the challenge of effective and secure open source information management.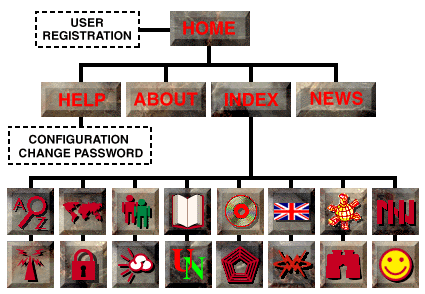 With the sheer volume of data now available in the public domain comes the challenge of effective information mining and using information to enhance rewards and reduce risks.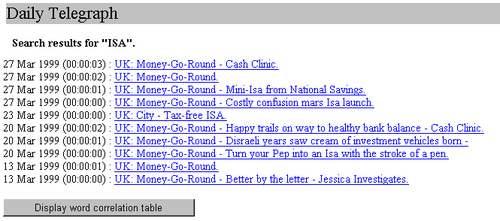 Delos provides a unique roadmap to fast, efficient and secure mining of open source information with:
ophisticated data search and retrieval;
wide range of online data sources
secure connection to the Internet;
intranet integration;
user interest profiling;
effective data mining;
standardised integration of thousands of information sources;
uses internet sites and intranet knowledge as content providers;
Delivers integration across all knowledge management platforms;
Based on standard Web browser technology
Making sense of information
Fast and effective access to open source information is key to supporting decision making, for monitoring relevant current events day-to-day and "in times of tension".
Not only does DELOS allow you to index, filter and store the information vital to your organisation but it also includes tools and data representations to assist you in the speedy analysis of this information.
Automated surfing
Time normally spent by employees surfing for and retrieving relevant information can now be spent on more productive tasks. The information is automatically brought to the desktop of all those who require it.
Once there, it is presented in an easily understood format and it can be seamlessly viewed in different ways through the analysis tools allowing faster focus on the pertinent information whilst highlighting anomalies and areas requiring further research.
Z/Yen is the UK's leading risk/reward management firm. We have had to be experts in Information and Knowledge Management in secure environments in order to do our work – explore DELOS with us.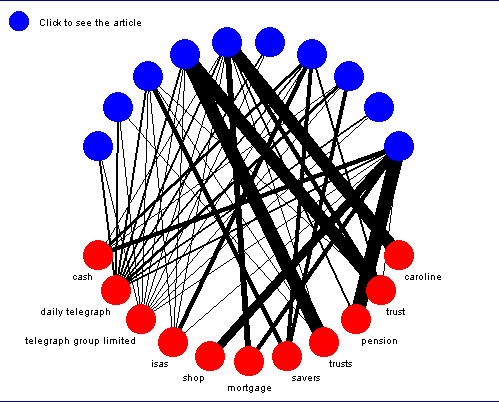 Delos – A Roadmap to Secure Mining Of Open Source Information