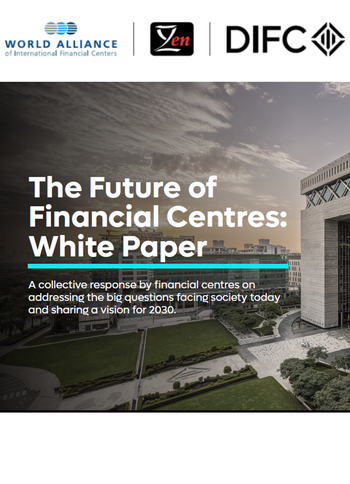 Authors
Mike Wardle, Professor Michael Mainelli, et al
Published by
Z/Yen Group, Dubai International Financial Centre Authority & World Alliance Of International Financial Centers (June 2022), 45 pages.
Share on social media: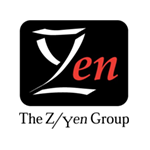 You might also be interested in:
The Future Of Financial Centres
The white paper, "The Future of Financial Centres" has been launched by Dubai International Financial Centre (DIFC) in collaboration with the World Alliance of International Financial Centers (WAIFC) and Z/Yen.
The paper explores how financial centres are addressing the big questions facing society today and sharing a vision for 2030.
The white paper was developed following the Annual General Meeting of the WAIFC last year, where several senior representatives from financial centres worldwide gathered in Dubai to consider the role they play in supporting global economic growth, providing investment for businesses, individuals and infrastructure, and enabling trade.
Key findings include:
The Digital Revolution
Financial centres have encouraged regulatory change to enable digital finance, provided FinTech labs to help start-ups operate at low cost, supported the development of digital ID and Know Your Customer systems, and backed initiatives to widen access to financial services through mobile platforms. They are collaborating with stakeholders to ensure that regulations both incentivise innovation and ensure consumer protection.
Sustainability
Financial centres are encouraging growth in sustainable finance by:
Leading multi-stakeholder groups to develop sustainability strategies.
Developing, publishing and socialising regulatory roadmaps.
Raising awareness of green transition dynamics domestically and internationally.
Supporting the development of new financial instruments, including performance-related green bonds or green Islamic Financial Certificates (Sukuk).
Contributing to national policy development.
Supporting international co-operation around green taxonomies and green finance disclosure standards.
Human Capital Development
Financial centre associations are working to:
Attract and develop talent through outreach to schools and universities, attractive visa and residency regimes, and partnerships between businesses and universities.
Upskill talent through updating degree programmes, establishing tailored training to target skills shortages, upgrading digital education, and facilitating knowledge transfer through international partnerships.
Retain talent by developing networks that support local workforces and providing attractive working environments.
Reskill talent through continuing professional development and developing partnerships with international professional institutes and Continuing Professional Development (CPD) providers.
A Vision For The Future
International financial centres are doing their utmost to support a more sustainable global future by being:
Green. Provide incentives that prioritise the sustainable economy, reduce carbon emissions and promote green solutions.
Smart. Able to understand and manage increasingly complex technological approaches to finance, opening up new markets and offer improved services.
Innovative and client/customer centric. Provide a regulatory and legal environment that allows for sustained innovation, balancing regulatory cost and protection.
Digital. Provide most services for residents via special platforms, apps.
Inclusive. Ensure the business services and regulatory environment is fair and open to allcomers, with support for those wishing to start businesses in the marketplace.
Quality of life. Centres offer an excellent quality of life, which helps attracts high-performing people.
Regulation
Financial centres are fostering links between regulators and market participants to ensure that regulatory changes are understood, urging the development of international regulatory standards, providing regulators with commercial insights, and encouraging competition.