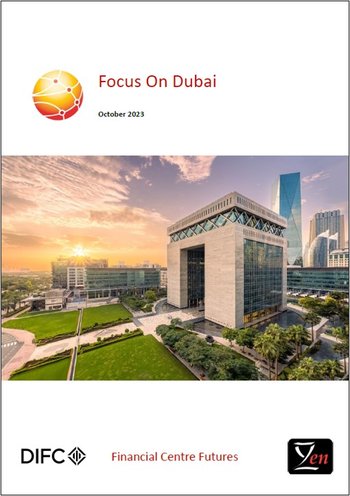 Authors
Mike Wardle
Published by
Financial Centre Futures (October 2023), 14 pages.
Share on social media:

You might also be interested in:
Focus On Dubai 2023
Focus On Dubai 2023 provides an update on developments in the Dubai International Financial Centre (DIFC). DIFC is a member of Z/Yen's Vantage Financial Centres network. The aim of this update is to provide readers with news about developments in Dubai's business and financial services activity.
Dubai International Financial Centre (DIFC) is one of the world's most advanced financial centres, and the leading financial hub for the Middle East, Africa and South Asia (MEASA), which comprises 72 countries with an approximate population of 3 billion and an estimated GDP of USD 8 trillion. Z/Yen's 33rd edition of the Global Financial Centres Index classified DIFC as one of only ten financial centres to be a broad and deep global leader.
With a close to 20-year track record of facilitating trade and investment flows across the MEASA region, the Centre connects these fast-growing markets with the economies of Asia, Europe and the Americas through Dubai. 
DIFC is home to an internationally recognised, independent regulator and a proven judicial system with an English common law framework, as well as the region's largest financial ecosystem of over 39,000 professionals working across more than 4,900 active registered companies – making up the largest and most diverse pool of industry talent in the region.
We hope that you find the report of interest. If you would like to connect with DIFC, please contact info@difc.ae.