Press Release: Three 'Smart' Reports & A New Index
Wednesday, 14 November 2018
Long Finance's Distributed Futures research programme is pleased to announce the publication of three 'Smart' reports, sponsored by Cardano Foundation, and the launch of a new Index.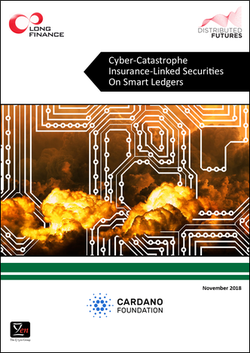 Cyber-Catastrophe Insurance-Linked Securities On Smart Ledgers
One of the strategies which the insurance industry has used to deal with the risk of natural catastrophes has been to offload some catastrophe risk on to the financial markets. But with the omnipresence of networked computer systems, the landscape of catastrophe has changed. The linking together of machines around the world might have made the world a smaller place, but it has also made it more susceptible to the possible effects of a single disastrous event. For that reason, it is imperative that the insurance industry adapts the ways it manages cyber risk to the possibility of cyber-catastrophe.
The report describes how cyber risk can be offloaded to the markets in the same way as, say, hurricane risk. With the help of Smart Ledgers, insurers and reinsurers can be certain that their clients are covered for anything.
The research was led by Sam Carter, Financial Sector Researcher and Quant Developer, under the direction of Professor Michael Mainelli, Executive Chairman, Z/Yen Group, and explores the following:
How did we get here? A history of insurance and catastrophe
What are Insurance-Linked Securities and how are they applied?
Can we define Cyber Risk? How well does the current insurance market cater for it?
Cyber-Catastrophe. This is a looming problem. Insurance-Linked Securities are the solution
A suggested architecture: polling, bespoke indices, and Smart Ledgers
Further applications: reporting, regulation, data anonymisation, advertising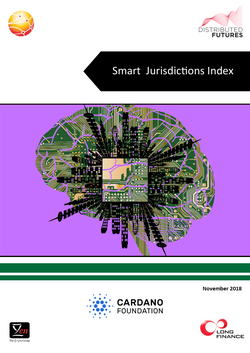 To help investors, governments, and regulators track the latest global developments in Smart Ledgers, we have today launched a new Smart Jurisdictions Index (see SmartJurisdictionsIndex.net). The index, which so far compares 48 jurisdictions across the globe using 151 factors, ranks a number of pioneering States in the USA at No 1, with France at 10, Canada at 11, the Netherlands at 12, the UK-England at 13, and Switzerland at 18. Drivers include how jurisdictions handle Identity, Documentation, Legal, and Payments, and how nations are beginning to deploy services to citizens using Smart Ledger technology.
Launched in pilot form so that key sector-players can contribute immediately to growing its scope and accuracy, the new Smart Jurisdictions Index uses the same methodologies that have helped our Global Financial Centres Index and Global Green Finance Index establish themselves as world-leading benchmarks.
Z/Yen's Executive Chairman Professor Michael Mainelli said: "Smart Ledgers are changing finance and business by changing the way trust between parties is held and acted on. Practitioners asked us to build this new Smart Jurisdictions Index so that regulators, governments, investors, and businesses can better see how different jurisdictions are responding to the challenges of change."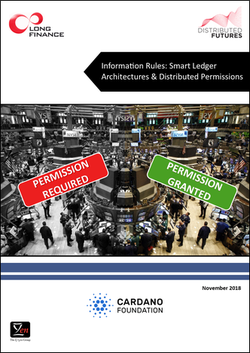 Information Rules Smart Ledger Architectures & Distributed Permissions
One needs permission from somebody or someone to do pretty much anything these days. Whether it be parking your car, gaining a license, accessing a stock exchange or, more recently and topically, retaining personal data from a client business card, somebody somewhere insists you provide evidence that you have permission.
This paper explores 'permissions', i.e. the actions one is allowed to perform with items, and more specifically, permissions surrounding digital items, which are becoming increasingly complex. In order to effectively manage such permissions in contemporary markets, we believe that a new framework for defining and managing distributed permissions is needed: what one might call a species of 'information rules'.
The goal of this report is to consider how Smart Ledgers could implement such a permissions framework. We intentionally explore new technical approaches, rather than recommending an evolution of current frameworks and technology. We believe that current technical 'architectures', largely based around a central third party and its information technology, are giving way to more distributed architectures. These distributed architectures are based on 'Smart Ledgers', multi-organisational databases with a super audit trail, typically containing some embedded computer code.
The research was led by Maury Shenk, Managing Director, Lily Innovation and Professor Michael Mainelli, Executive Chairman, Z/Yen Group.
The report concludes that the criteria for successful permissioning systems appear to be:
Precision – ability to accurately convey permissions;
Breadth – scope to convey any type of permission;
Applicability – comprehensibility and practicality of application in real-world markets and related interactions.
NOTE TO EDITORS
Distributed Futures - www.distributedfutures.net
Distributed Futures is a significant part of the Long Finance research programme managed by Z/Yen Group. The programme includes a wide variety of activities ranging from developing new technologies, proofs-of-concept demonstrators and pilots, through research papers and commissioned reports, events, seminars, lectures and online fora.
Distributed Futures topics include the social, technical, economic, and political implications of smart ledgers, such as identity, trade, artificial intelligence, cryptography, digital money, provenance, FinTech, RegTech, and the internet-of-things.
Cardano Foundation - https://cardanofoundation.org/
Cardano Foundation is a blockchain and cryptocurrency organisation based in Zug, Switzerland. The Foundation is dedicated to act as an objective, supervisory and educational body for the Cardano Protocol and its associated ecosystem and serve the Cardano community by creating an environment where advocates can aggregate and collaborate.
The Foundation aims to influence and progress the emerging commercial and legislative landscape for blockchain technology and cryptocurrencies. Its strategy is to pro-actively approach government and regulatory bodies and to form strategic partnerships with businesses, enterprises and other open-source projects. The Foundation's core mission is to "standardise, protect and promote" the Cardano Protocol technology.
Long Finance – www.longfinance.net
Established in 2007, Long Finance aims to improve society's understanding and use of finance over the long term, by hosting and promoting a series of lectures, discussion events, and research publications. The initiative began with a question –­ "when would we know our financial system is working?" – and seeks to challenge a financial system that revolves around short-term thinking and practices.
Z/Yen Group – www.zyen.com
Z/Yen is the City of London's leading commercial think-tank, founded to promote societal advance through better finance and technology. Z/Yen 'asks, solves, and acts' on strategy, finance, systems, marketing, and intelligence projects in a wide variety of fields. Z/Yen manages the Long Finance initiative.
For further information contact:
Professor Michael Mainelli
Executive Chairman
Z/Yen Group
41 Lothbury
London EC2R 7HG
United Kingdom
tel: +44 (0) 207-562-9562
michael_mainelli@zyen.com
Twitter: @LongFinance (#DistributedFutures)
Linkedin: https://www.linkedin.com/company/z-yen-group-limited/