Press Release: Government Digital Certificates Increasingly Important In Covid-19 World
Wednesday, 20 May 2020
New figures from Z/Yen show heightened interest in Government Digital Certificates as a tool to combat money-laundering and fraud in the light of the covid-19 crisis. Over the past ten months 2,274 financial professionals around the world rated the effectiveness of approaches to Anti-Money Laundering (AML). The results show a significantly greater emphasis on government digital certificates since the covid-19 pandemic.
Government Digital Certificates are now seen as more effective than Suspicious Activity Reporting or Customer Profiling for AML, rising two places in the table from tenth to eighth place based on effectiveness. This latest analysis covers a period from January 2020 onwards, during the covid-19 pandemic. Customer Identity Verification and Record Maintenance remains the activity seen as most effective in AML; but Government Digital Certificates are increasingly seen as an important as part of customer verification. "This is part of an increasing trend towards digitalisation in all aspects of financial services", said Mike Wardle, Head of Indices at Z/Yen. "Financial professionals want to combat money-laundering, but equally want to minimise physical contact. Covid-19 makes digitalisation more urgent. Further benefits of the greater use of Digital Certificates are reductions in the cost of AML systems and improvements in customer service."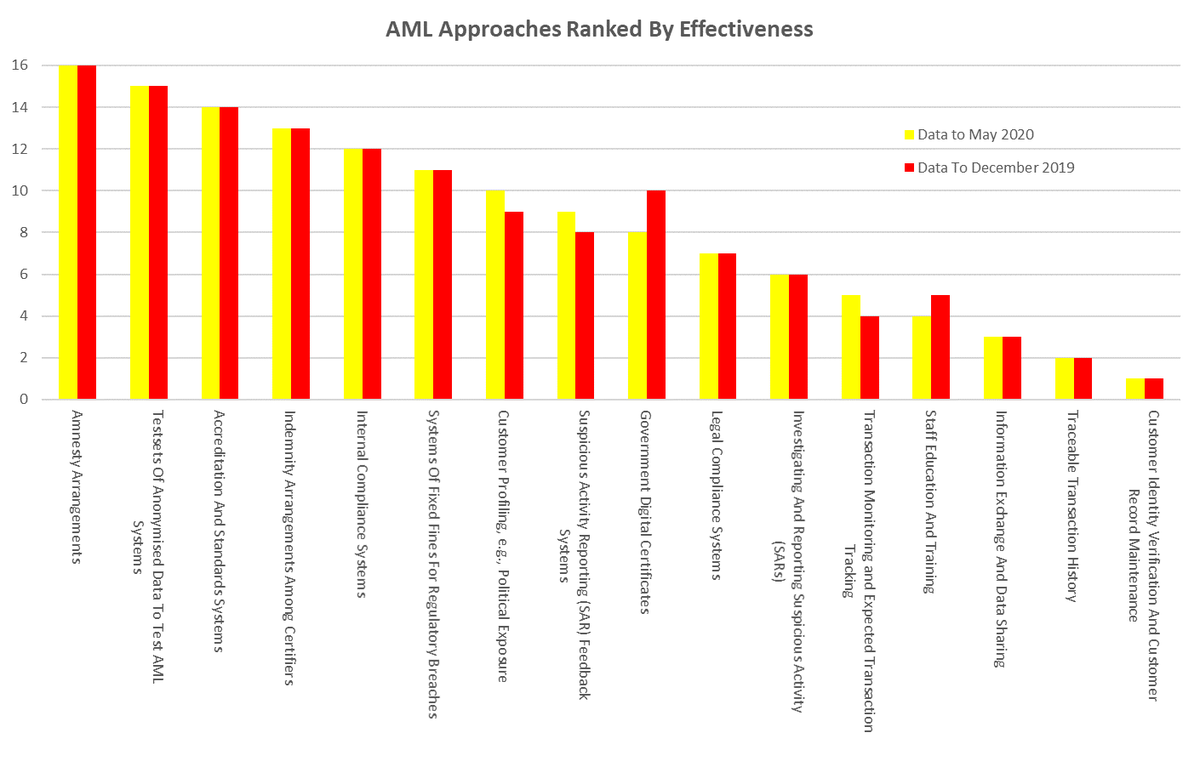 "Governments can support financial services reducing contact while improving the effectiveness of anti-money laundering efforts by doing what they should do anyway - provide all official government documentation electronically with appropriate digital certification", added Professor Michael Mainelli, Executive Chairman of Z/Yen.
Z/Yen supports the Anti-Money Laundering Taskforce established by the Financial Services Group Of Livery Companies. Catch up on the TaskForce's work by exploring its launch webinar and the subsequent session on AML and the professions.
The AML effectiveness survey is part of the Z/Yen survey for the Global Financial Centres Index. Please take the survey and add your voice to the debate on financial centre competitiveness and AML.
Notes To Editors
A Digital Certificate is an electronic 'password' that allows a person or organisation to exchange data securely over the internet using public key infrastructure (PKI). Digital Certificates are also known as a public key certificate or identity certificate. Government Digital Certificates are backed by government and are used to confirm identity in the same way as a passport, driving licence or identity document. Examples of Government Digital Certificates include the Estonian Mobiil-ID scheme. In Norway, there are five authorised digital ID systems which can be used to log into government services. Franceconnect allows the use of digital identies across different platforms. In the UK, the GOV.UK Verify system is supposed to allow banks and financial institutions to confirm someone's identity for checks on credit risk assessments and to meet regulatory requirements. Government Digital Certificates can also be used to certify individual's position in relation to Government activity, for example, that someone with that identity holds a valid driving licence, or is registered for tax purposes. In the USA, the Government Publishing Office uses digital certification to authenticate government documents issued as PDFs, to enable readers to check that the document certification is valid, that it has not been modified since it was certified, and that the signer's identity (a US government office) is valid.
Z/Yen Group – www.zyen.com
Z/Yen is the City of London's leading commercial think-tank, founded in 1994 to promote societal advance through better finance and technology. Z/Yen 'asks, solves, and acts' on strategy, finance, systems, marketing, and intelligence projects in a wide variety of fields. Z/Yen runs the Global Financial Centres Index, the Global Green Finance Index, and the Smart Centres Index.