Press Release: Auditing Mutual Distributed Ledgers (aka Blockchains): A Foray Into Distributed Governance & Forensics
Thursday, 30 November 2017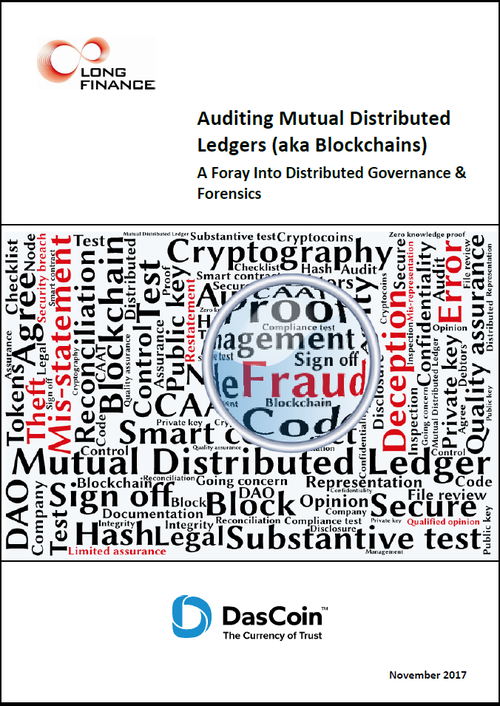 Auditing Mutual Distributed Ledgers (aka Blockchains): A Foray Into Distributed Governance & Forensics
By Michael Mainelli and Matthew Leitch
Sponsored by DasCoin
Long Finance (November 2017), 37 pages.
This project was commissioned by DasCoin in the summer of 2017. Z/Yen's Long Finance project team reviewed the limited literature on the topic to produce four discussion papers that described the issues and explored some potential ways of addressing them.
On 4 October 2017, Long Finance held a symposium to explore the discussion papers in the ornate Main Reception Room at Chartered Accountants' Hall in London. The 28 participants had wide ranging backgrounds and interests. They included representatives from regulators, professional associations, external audit firms, technology companies, and academia.
This report includes the background information chapters on Auditing Distributed Ledgers, Auditing Distributed Data, Auditing Distributed 'Smarts', and Auditing Consortium Blockchain Systems, along with a brief summary of the symposium discussions.
The report concludes that while it is too early to consider broad standards for MDL applications and systems, it might be helpful to know which features make audit and control feasible and goes on to make some initial suggestions. These could be seen as desirable design features for organisations and their auditors to look for.
Notes to Editors
DasCoin – www.dascoin.com
Our vision is to lay down a global bedrock of trust that unlocks prosperity for everyone. By eliminating the problems of traditional money and adapting trust to the digital age, we are creating a better system for holding and exchanging value.
We are focused on delivering solutions that increase empowerment, enhance control and expand freedom. We believe the pursuit of these qualities will lead to a better, fairer, more prosperous future for all involved. We are constantly innovating as we create, maintain and evolve the world's most secure digital currency.
Long Finance – www.longfinance.net
Established in 2007, Long Finance aims to improve society's understanding and use of finance over the long term by hosting and promoting a series of lectures, discussion events and research publications. The initiative began with a question –­ "when would we know our financial system is working?" – and seeks to challenge a financial system that revolves around short-term thinking and practices.
Z/Yen Group – www.zyen.com
Z/Yen is the City of London's leading commercial think-tank, founded to promote societal advance through better finance and technology. Z/Yen 'asks, solves, and acts' on strategy, finance, systems, marketing and intelligence projects in a wide variety of fields. Z/Yen manages the Long Finance initiative.
For further information contact:
Z/Yen Group
41 Lothbury
London EC2R 7HG
United Kingdom
tel: +44 (0) 207-562-9562
hub@zyen.com