Get Smart About Scandals: Past Lessons For Future Finance
Wednesday, 07 March 2018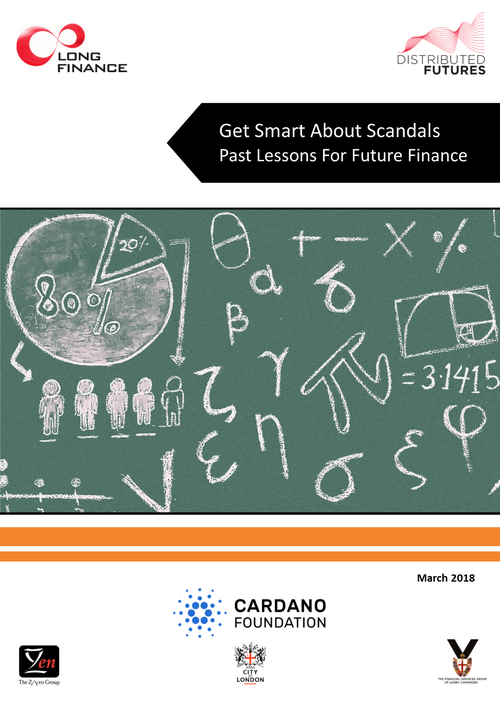 Get Smart About Scandals: Past Lessons For Future Finance
By Professor Tim Connell and Bob McDowall
Sponsored by Cardano Foundation
Long Finance (March 2018), 102 pages.
The Distributed Futures research programme is pleased to announce the publication of the report, "Get Smart About Scandals: Past Lessons For Future Finance", another in a series of exciting projects in the programme. The report, sponsored by the Cardano Foundation, was written by Professor Tim Connell, Bob McDowall, and Professor Michael Mainelli and includes a Foreword from the Rt. Hon. Lord Mayor of London, Alderman Charles Bowman, and support from the Financial Services Of Livery Companies.
The "Get Smart About Scandals: Past Lessons For Future Finance" report informs you of the basic tricks that fraudsters, conmen, and the incompetent have used, over many centuries and explores:
Scandals: How To Identify Them – And How To Stop Them
Vehicles For Fraudulent Behaviour
Corrupt Practices And Procedures
Bubble, Booms And Busts
The Good Guys: Scandals And How To Avoid Them
The Future Direction And Dynamics Of Financial Scandals
The report also offers recommendations based on policy, procedures, structures, and training, that are linked to the Lord Mayor's "Business Of Trust" initiative, which resulted in the mnemonic 'CIVIC'
Competence and skills – doing what you do well;
Integrity – being honest, straightforward and reliable;
Value to society – recognising and meeting wider societal needs;
Interests of others – respecting the interests of customers, employees and investors;
Clear communication – being transparent, responsive and accountable.
Professor Michael Mainelli, Executive Chairman, Z/Yen Group commented: "Past reactions to scandals rightly focus on preventing future scandals, but too often only focus on the exact one they faced. It's building rifles against many-coloured wolves that work only with specific wolf colours. Or, 'fighting the last war'. One might contend that past reactions, with their rules and regulators, sometimes only redistribute the power and money for the next round of exploitation."
Notes to Editors
Cardano Foundation - https://cardanofoundation.org/
Cardano Foundation is a blockchain and cryptocurrency organisation based in Zug, Switzerland. The Foundation is dedicated to act as an objective, supervisory and educational body for the Cardano Protocol and its associated ecosystem and serve the Cardano community by creating an environment where advocates can aggregate and collaborate.
The Foundation aims to influence and progress the emerging commercial and legislative landscape for blockchain technology and cryptocurrencies. Its strategy is to pro-actively approach government and regulatory bodies and to form strategic partnerships with businesses, enterprises and other open-source projects. The Foundation's core mission is to "standardise, protect and promote" the Cardano Protocol technology.
Long Finance – www.longfinance.net
Established in 2007, Long Finance aims to improve society's understanding and use of finance over the long term by hosting and promoting a series of lectures, discussion events and research publications. The initiative began with a question –­ "when would we know our financial system is working?" – and seeks to challenge a financial system that revolves around short-term thinking and practices.
Z/Yen Group – www.zyen.com
Z/Yen is the City of London's leading commercial think-tank, founded to promote societal advance through better finance and technology. Z/Yen 'asks, solves, and acts' on strategy, finance, systems, marketing and intelligence projects in a wide variety of fields. Z/Yen manages the Long Finance initiative.
For further information contact:
Professor Michael Mainelli
Executive Chairman
Z/Yen Group
41 Lothbury
London EC2R 7HG
United Kingdom
tel: +44 (0) 207-562-9562
michael_mainelli@zyen.com