BizTech Huìhuà Chat: Realising The Renewable Energy Internet - The Financial Interconnectors Webinar
Z/Yen and the China Development Institute (CDI) host a regular series of open discussions on technology and financial futures. This event is going to explore how to make the global energy system more sustainable, inclusive, and resilient​ by looking to develop a Renewable Energy Internet with the right financial interconnectors. Renewable Energy Internet thinking has emerged strongly from central Asia, where landlocked countries such as Kazakhstan want to connect their renewable generation to an energy market largely based on shipborne fossil fuels.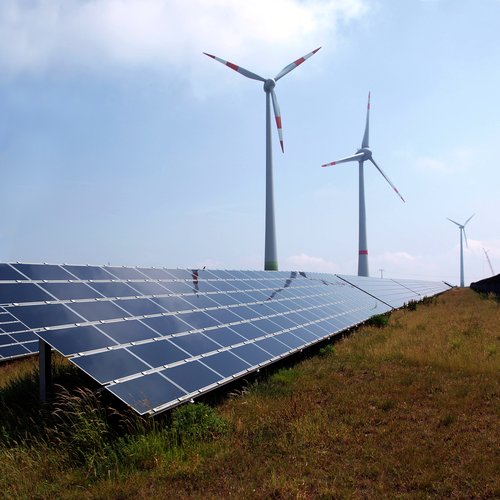 While many thinkers see the future as 'electric', much of this has been based on national grids. Meanwhile, heavy industry, aviation, and shipping need to consider both hydrogen and ammonia to become more sustainable​, as 'new nuclear' such as small modular reactors also gain the attention of forward thinkers. Finance and financial centres have a significant role to play in providing smooth, liquid, and efficient markets allocating money, resources, and energy. However, the existing international energy trading market is inefficient, largely paper-based, and unable to fulfil the types of services a Renewable Energy Internet requires.
This webinar will explore what can be done jointly by financial centres to provide better energy markets from simplification of contracting, standardisation of documentation, creation of central clearing & counterparty services, or combining foreign exchange and energy trading contracts.
Speakers:
Professor Alexander Van de Putte PhD FCG CDir FIoD is Chief Strategy Officer, Chairman of Corporate Governance & Stewardship, and Chairman of the Academic Council of the Astana International Financial Centre. He is also the Chairman of the Board of the AIFC Bureau for Continuing Professional Development (BCPD) and an independent director of the AIFC Authority and of Eurasian National University. At IE Business School, one of Europe's top business schools, he is Professor of Strategy and Strategic Foresight.
In December 2020, he was awarded with the high state award - the order of Dostyk of Degree II by decree of the President of the Republic of Kazakhstan.
Previously, Professor Van de Putte was a Member of the Board of the National Investment Corporation of the National Bank of Kazakhstan, a Managing Director with the Kazakhstan Development Bank, Principal Advisor to the Deputy Prime Minister of Kazakhstan, Senior Director and Head of Global Practices with the World Economic Forum. At Shell, Alexander was the Senior Strategy and Portfolio Advisor to the Chairman and the Committee of Managing Directors. Prior to Shell, Alexander was Executive Director and co-leader of the shareholder value practice at PricewaterhouseCoopers. At McKinsey, Alexander was a core team member of the European Corporate Finance and Strategy Practice.
Alexander is an economist and engineer by training. He holds advanced degrees in Management and Decision Sciences from Boston University, was a BAEF Fellow at Harvard Business School, holds a PhD in Applied Economics (Strategy & Finance) from the University of London, a Doctorate in International Relations from the Geneva School of Diplomacy, and a PhD in Engineering (Complex Adaptative Systems) from Cambridge University. He is a Chartered Director and Fellow of the Institute of Directors, a Chartered Governance Fellow with The Chartered Governance Institute, and a NACD Governance Fellow & Board Leadership Fellow. He is also a member of the Singapore Institute of Directors, an academic member with the European Corporate Governance Institute and also holds the Financial Times Non-Executive Director's Diploma and the Stanford Directors' Consortium Certificate.
Zhuang Liu is the General Manager of Energy China Group International Engineering Corporation, who used to undertake responsibilities including as Deputy Director of Energy China Group Northwest Power Grid Design Institute, Director of Energy China Group International Department, etc. Under the current many uncertainties of the industries in the world, Mr Liu is dedicated to the promotion of international cooperation via innovation of business channels and developmental methods, facilitated the international business growth of Energy China which would other wise deemed as unachievable facing the various global difficulties and challenges.
刘壮同志曾任西北院副院长、中电工程国际业务部主任、现任中电工程国际公司总经理。面对严峻复杂的国际形势,刘壮同志勇担当、善作为,以"功成不必在我,功成必定有我"的情怀,积极开拓创新、系统谋划中电工程国际业务发展新路径、新举措,致力于打造海外业务发展大平台,打开了设计企业的国际业务新局面,实现了中电工程国际业务的逆势增长。
Date
Thursday, 27 January 2022
Time
8:00 - 9:15 GMT
Cost
N/A
Book Now




Speaker(s):
Professor Alexander Van de Putte
Chief Strategy Officer, Chairman of Corporate Governance & Stewardship, and Chairman of the Academic Council
Astana International Financial Centre
Zhuang Liu
General Manager
Energy China Group International Engineering Corporation
Chairman:
Professor Michael Mainelli
Executive Chairman
Z/Yen Group