Dr Kevin Parker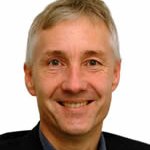 Business Adviser
Dr Kevin Parker trained as a chemist (Edinburgh and Cambridge), and worked for 12 years with British Petroleum. Of that time 6 years was spent in R&D, (where he won BP's top internal research prize) and 6 years as a 'fast-track' operational manager. During his period in management he worked in: sales and marketing, literally 'selling oil to the Arabs' ($5m p.a.); international marketing, and technico-economic corporate planning.
In 1992 he left BP to graduate from London Business School's Sloan Masters Programme, with distinctions in entrepreneurial finance, environmental economics and international business development.
In 1993 he founded his own consultancy KKI Associates, and during the period up to 1997 specialized in gaining opportunities for technological companies in Eastern Europe to export to the UK and US. He carried out over 30 broad-ranging market research and business development projects over a three-year period. As a result, KKI was asked to provide training and advice to an 18 month EU PHARE project restructuring agricultural and petrochemical research institutes in Romania and the Ukraine.
KKI has worked on over 250 technology based commercialization projects, especially spins-outs from Scottish Universities. KKI are have been Life Science and Chemical Science Expert Advisors to Scottish Enterprise, and work closely with a number of Scotland's Angel investment syndicates.
Kevin runs application workshops for the Royal Society of Edinburgh's Enterprise Fellowship Scheme.
From 1997 KKI has worked with many technology based business start-ups, especially spins-outs from Scottish Universities. 5 of these companies were recently listed by Scottish Business Insider magazine as being among Scotland top spin-outs, 9 have gained SMART Scotland or similar awards. 3 (Lux Biotechnology, Reactec, BlueSky Telemetry) have gone on to notable investment funding and commercial success.
Kevin has carried out extensive Innovation training for companies, start-ups, Universities, Learned Societies, and Government Research Institutes. KKI's client list includes 19 of the UK's leading Russell Group Universities, and the Roslin Institute, home of Dolly the Sheep.
Students trained by Kevin have had notable success in the UK Research Councils Young Entrepreneur Scheme ('BioYES') with winners/finalists in 2011, and 2013-7. Entrepreneurs trained by KKI have gone on to form over
20 successful start-ups including Lux Biotechnology, Reactec, Xi Consulting, Haptogen, Novabiotics, Holoxica, and Advanced Pest Solutions.
Kevin is a Cub Scout leader and carries out pro bono adult leader training for the Scout Association, winning awards in 2009, 2012 and 2016. In 2013 he was Mentor of the Year for his work with the Princes Trust Growth Fund in Scotland. In 2017 he was made a Fellow of the Royal Society of Chemistry for his Innovative development of Problem-based Learning in Chemical Education.