Smart Ledger Geostamping: Steps Towards Interoperability & Standards
Tuesday, 19 December 2017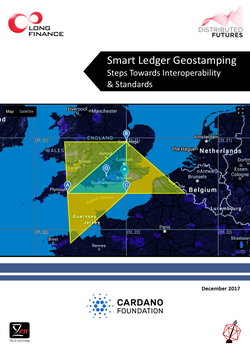 Smart Ledger Geostamping - Steps Towards Interoperability & Standards
By Michael Mainelli and James Pitcher
Sponsored by Cardano Foundation
Long Finance (December 2017), 21 pages.
Long Finance's Distributed Futures research programme is pleased to announce the release of its first three approaches to 'geostamping', along with a short guide. Timestamping is an important part of Smart Ledgers (aka blockchains with embedded code), an authoritative record of the time of a transaction. Geostamping is a mirror image, an authoritative record of the location of a transaction. Geostamping = timestamping + geolocation information.
Long Finance's Distributed Futures research programme has an open source project, "GeoGnomo" to research and share methods for geostamping. Geostamping benefits from having memorable ways of recording areas that also aid efficient retrieval. GeoGnomo has built-to-share three approaches for recording areal information, a Quaternary Triangular System, a Quaternary Rectangular System, and a Variable Rectangular System for geostamping. Each can be used to record geographic areas into a blockchain.
GeoGnomo provides source code and an online translation from latitude & longitude areas to geocodes and back. Thus, blockchain applications have almost an instant 'global post code' or 'global zip code' system. By using consistent geocoding data retrieval is easier. Users can share information easily – "tell the drone to come to F49PUR9B7-20", a resolution of 7.6 metres.
This report was commissioned by the Cardano Foundation in November 2017 and is one of the first outputs from a series of projects in the Distributed Futures research programme. Michael Parsons, CEO of the Cardano Foundation, comments "Geostamping and timestamping are two of the most important functions of Smart Ledgers. Our sponsorship of Distributed Future's GeoGnomo project is directed at sharing mechanisms for geostamping that are memorable, aggregable, proximable, and scalable."
Notes to Editors
Cardano Foundation - https://cardanofoundation.org/
Cardano Foundation is a blockchain and cryptocurrency organisation based in Zug, Switzerland. The Foundation is dedicated to act as an objective, supervisory and educational body for the Cardano Protocol and its associated ecosystem and serve the Cardano community by creating an environment where advocates can aggregate and collaborate.
The Foundation aims to influence and progress the emerging commercial and legislative landscape for blockchain technology and cryptocurrencies. Its strategy is to pro-actively approach government and regulatory bodies and to form strategic partnerships with businesses, enterprises and other open-source projects. The Foundation's core mission is to "standardise, protect and promote" the Cardano Protocol technology.
Long Finance – www.longfinance.net
Established in 2007, Long Finance aims to improve society's understanding and use of finance over the long term by hosting and promoting a series of lectures, discussion events and research publications. The initiative began with a question –­ "when would we know our financial system is working?" – and seeks to challenge a financial system that revolves around short-term thinking and practices.
Z/Yen Group – www.zyen.com
Z/Yen is the City of London's leading commercial think-tank, founded to promote societal advance through better finance and technology. Z/Yen 'asks, solves, and acts' on strategy, finance, systems, marketing and intelligence projects in a wide variety of fields. Z/Yen manages the Long Finance initiative.
For further information contact:
Z/Yen Group
41 Lothbury
London EC2R 7HG
United Kingdom
tel: +44 (0) 207-562-9562
hub@zyen.com