All Lit Up With Nowhere To Go
Friday, 04 December 2020
By Now&Z/Yen
A covid-19 Christmas was always going to be challenging. Awakened from slumber at home Michael was called to open the lights at Leadenhall Market.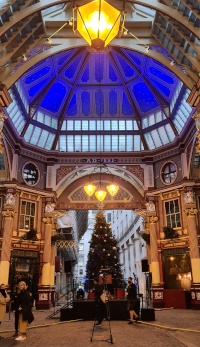 Leadenhall has always been a special 'lighting up' for his family as they have been visiting virtually every year, drinking some mulled wine as well, and greeting the Lord Mayor, Sheriffs, Aldermen, and Councillors who come by. Last year it was special to be the Sheriff and visit all the glorious boutiques he never had the nerve to enter. Last year as Sheriff he was able to add Bow Lane and Cheapside lights to the list of fun lighting ceremonies. All of the shopkeepers were wonderful, sharing Christmas food and cheer, which amazingly prised open his and Elisabeth's wallet and purse.
This year when he got to Leadenhall he found himself largely on his own, with just a camera crew and a few stunned tourists. Well, they shot the opening. Then they cleaned the stage of foam, and shot it again. Then they headed to a 'green room' to re-record the opening, when a car backfired. So they shot it again. Then Michael found out he should record Bow Lane, which he did, and an ambulance went by. So they shot it again. Then Michael found out he should record Cheapside, which he did, and a motorbike went by. So they shot it again. And then they recorded Bow Lane and Cheapside on site, but Michael had to go back to Cheapside a week later to shoot it again. Ahh, the tribulations of stardom.
Actually, going back to Cheapside meant he had the delight of meeting City of London Police Commander, David Evans, and Detective Chief Inspector John Osibote. These two gentlemen drive the City of London Police "Charity For Children" Christmas Appeal. If you need another good cause this Christmas, we do commend it.
Anyway, the final results came out and we do hope they somehow encourage people to go shopping now that the monster in the red robe has disappeared...
LEADENHALL MARKET
CHEAPSIDE BUSINESS ALLIANCE