Taking The Floor: Models, Morals And Management In A Wall Street Trading Room Webinar
Never miss a recording again; click here subscribe to Z/Yen's YouTube account .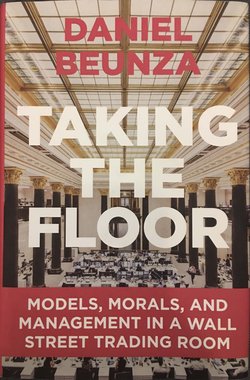 Over the past decade, regulators in the UK and elsewhere have sought to avoid a repetition of the global financial crisis by turning to bank culture. New culture teams have emerged, statements of purpose have been drafted, and self-regulatory initiatives have arisen to administer annual culture surveys to industry participants. Yet these attempts to influence employee behaviour by intervening on their values and beliefs has inevitably been hampered by the parallel use of technologies of control such as risk management metrics (whether it is Value at Risk, AI analytics, stress-testing, or ever-larger compliance teams, etc) that often displace employees' norms and values in shaping decisions. In his talk, Beunza explores the challenges entailed in enhancing cultural standards in an industry dominated by technologies of control, as laid out in his award-winning book Taking the Floor. Based on extensive, fly-on-the-wall observations at a Wall Street trading room over the span of sixteen years, Beunza considers the case of a bank executive who sought to remedy the ethical shortcomings he observed in derivatives trading by reorganizing his trading floor and challenging the bank's use of risk management models. Beunza analyses this unique experiment and considers what lessons it offers for financial organizations today: what worked? What didn't? What do we learn from it? Providing a unique perspective on a complex subject, the talk outlines what a contemporary managerial intervention on culture should entail in an age of extensive risk management constraints on decision-making.
Speaker:
Daniel Beunza is Professor of Social Studies of Finance at Bayes Business School, City University of London. Beunza's research explores the ways in which social relations and technology shape financial value. His award-winning study of a derivatives trading room on a Wall Street bank traced the roots of extraordinary returns to the use of space and internal organization. Beunza obtained his PhD from New York University, and has previously taught at Columbia University, the London School of Economics and Copenhagen Business School. His research has been published in Organization Science, Organization Studies and Economy and Society. Beunza is a leading contributor to the social studies of finance literature. He has served as Chair of the Academic Network of the Principles of Responsible Investment and collaborated with the UK Financial Services Culture Board on the use of ethnography and grounded theory research to enhance professional standards in the UK's financial sector. Beunza's recent book, "Taking the Floor: Models, Morals and Management in a Wall Street Trading Room" (Princeton University Press) considers the moral consequences of the use of economic models on Wall Street and has won the Academy of Management's 2019 Terry Award and the 2019 Best Book Award by the European Group on Organisation Studies.
Speaker(s):
Professor Daniel Beunza
Professor of Social Studies of Finance
Bayes Business School
Chairman:
Mike Wardle

CEO & Head of Indices

Z/Yen Group